I intended to write this report, but on the other hand I decided to upload it as a teacher. In terms of trade, it has become a very low-quality report, but I think that it will be pardon there.
2019.02.15 (Fri) 13: 50 Put Back Spread entry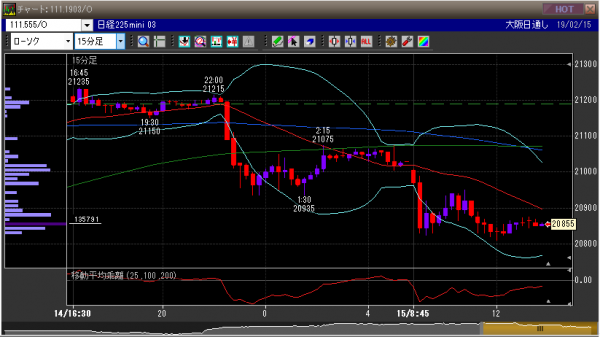 Tokyo market afternoon. Nikkei futures that were knocked down from 21,000 units last night's NY time. Today we have close access at 21,000 cars and ceiling. So far it has been in the low price zone.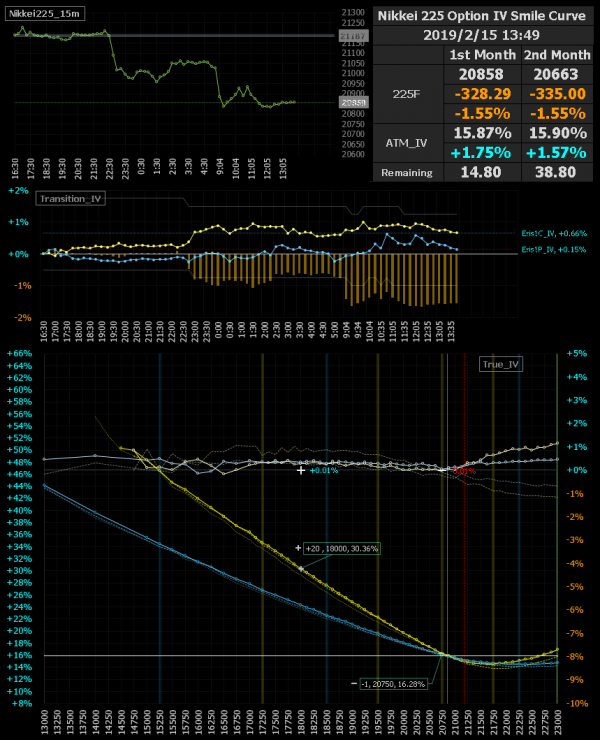 With the futures falling by more than 400 yens yesterday from a high price of over 2,200 yen OTM calls are rolling out. Putt is fine but it is close to no reaction.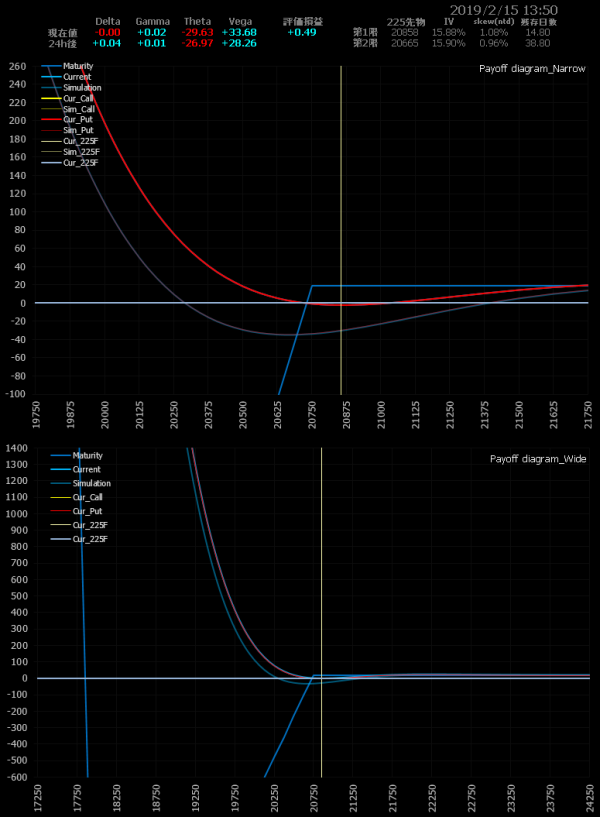 Although it can not be said that the perfect condition is complete, entrance put put back spread midway. Back spread 3 times repeated.
Putt is still thin, but tonight in the NY time before the three consecutive holidays, if the wall seems to respond negatively to – emergency declaration – economic slowdown fears recurrence – China trade negotiations – Will not it be a heap of magnificence? Of course the put-back spread is strong against rising futures, so it would be a realistic best scenario for the position to be a flow of 21,000 yen recovery to NS rather. Raise WIN, lower, WIN, Yoko Yoko LOSE. Law of three to two. Training of the guild.
Even so, I do not care what the IV does not follow the rapid rise of RV.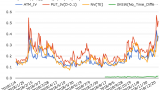 日経225オプションIV推移
「スマイルキャッチャー」で取得した大引け時点の日経225オプションIVの推移です。・Nikkei225F = 日経225先物仲値・ATM_IV = ATMのIV(インプライド・ボラティリティ)・PUT_IV(D-0.1) = OTMプット(
2019.02.16 (Sat) 02: 05 NY market lunch time course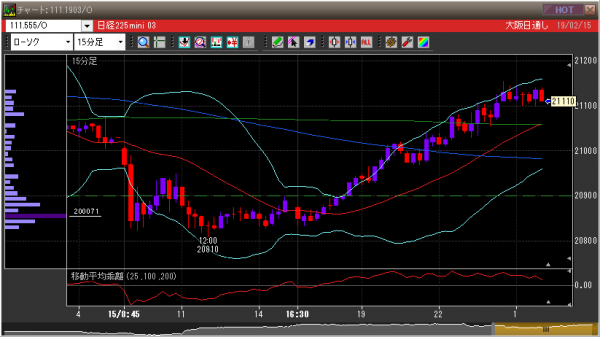 Nikkei futures of NS have been steady. Last time President Trump invoked the emergency declaration as planned.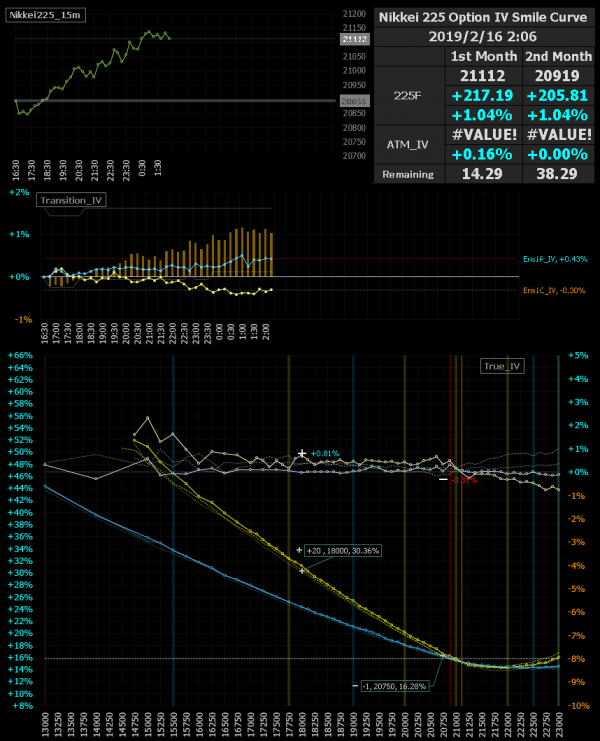 Paddle-rise C peeling off.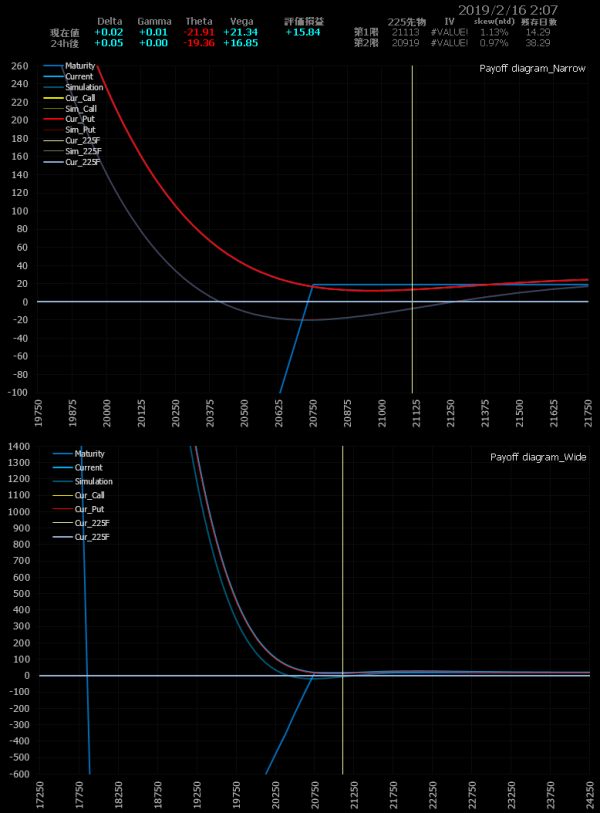 It is supposed to be the put-back spread WIN …… as expected in the "rise of P pile C peeling", but what is "convex smile" around this ATM 21000. Because it is selling here exactly, it will not be beautifully WIN unless it is dragged and dropped by the call scrape … …. Is the rice market before the three consecutive holidays so far so far? It is a pattern that seems to be one step ahead in NY afternoon, but I will enter into repayment position of position.
Incidentally, I am missing reading one. This "raise P pile C peeling" is merely "slide effect" of IV, and it is not a fact that put is conscious with conscious of the US market triple holiday. I completely bugged here.
"Slide effect" of IV can be observed with a smile curve. Since it is important in conducting volatility trade, you can use it if you remember this characteristic. For example, "Full Hedge Bear Synthetic" is a Delta Neutral spread that combines "Put Buying + Call Selling + Mini Bought" and "Full Height C Bonding C Off" by "Spread of Pet", "Put Selling + Call purchase + mini selling ", which is also spread using the delta neutral spread," lowering P peeling C prime ", respectively.
When this spread is broken down, the former is "Protective put + covered call", the latter is "covered put + protective call". In any case, if you do not take the position after timing with the "slide effect" in mind, profits will not come out. As I wrote repeatedly in this report so far, I may have gotten tired of listening to bad news.
We prepared a simple movie showing "slide effect", so please refer to it.
2019.02.16(土)04:30 全返済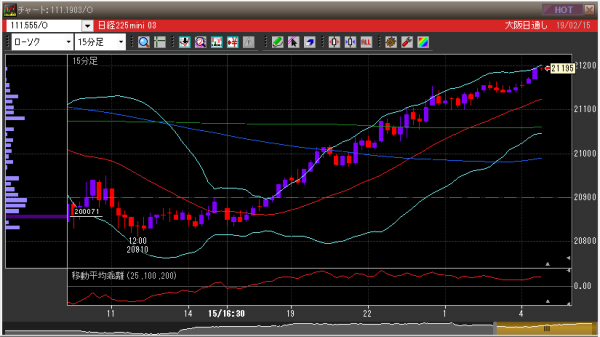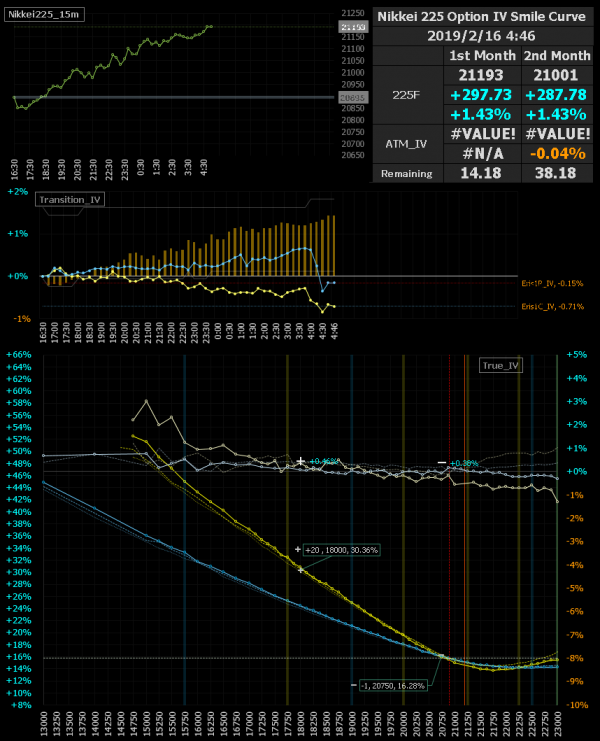 Full repayment is completed. After throwing the buy ball, I ran the seller and it was nice to be able to return it plus. Forcible position taking is Ikan Fierce reflection. I have to aim more carefully.
1903P20750 @-1qty 280.00 JPY -> close 150.00 JPY (+130,000 JPY)
1903P18000 @+20qty 13.00 JPY -> close 8.00 JPY (-100,000 JPY)
This profit and loss +30,000 JPY
Total profit and loss +30,000 JPY