2019.01.31 (THU) 03: 10 Covered put entry shortly FOMC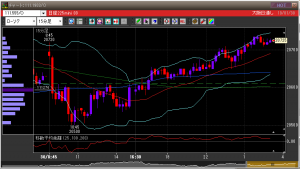 Nikkei futures have been steady from the Tokyo market. The US account settlement also reacts positively so far, after a while we will refrain from FOMC and the chairman's statement.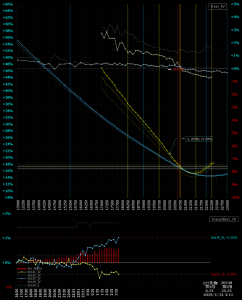 Putting towards FOMC plummeted by 1%.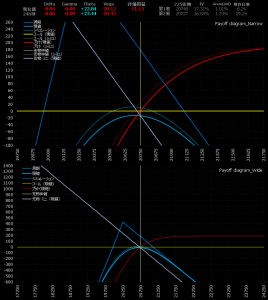 Entry covered · put. Aim of putting away after passing through the event. Including the portion that has continued from yesterday, tomorrow it will fall by more than 2%. As you can see in the image above, this covered put is "Vega – 20.12", spread of 1. By the way I may have written it before, but I do not like 24h because I have this position because I do not feel calm.
2019.01.31 (THU) 04:25 mini selling addition shortly FRB chairperson performances

Added selling @ -1 -1 as the Nikkei futures jumped up with Dow 's linked before the chairman' s statement. Received FOMC announcement Tiggyag reaction of the dollar's weak stock. Foreign exchange has plummeted and it seems to break 109 JPY. The spread of the option board opens, and it is quite rough. The futures are waving 50 JPY in width. VIX plummeted to 17 points.


I changed the smile curve of FOMC Knight tonight, so if you are interested, please have a look.
2019.01.31 (THU) 15: 05 Tokyo time Close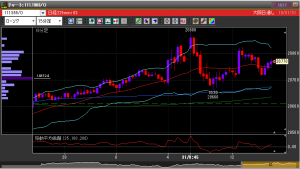 After passing through the FOMC, the Tokyo market opened a small movement within a narrow range.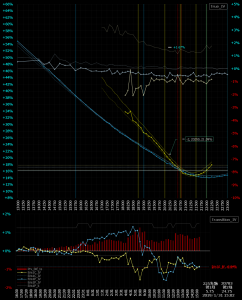 Peel off at the FOMC passage IV. Here is a video of the smile curve of the Tokyo market today. This movie is actually a mountain of treasure indeed.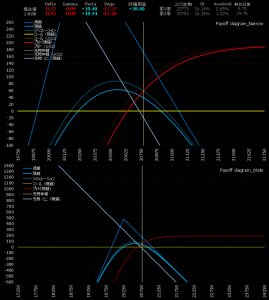 It started to peel off after passing through FOMC last night, and the Tokyo market also consistently disappeared. Evaluation of covered · putt is 2% flaking and it is roughly as calculated as the present evaluation. Position hold.
2019.02.01 (FRI) 02: 00 Mini partially repayment
Futures have soared so fast at this time. Once, I will drop only one. Repayment of one mini. 
1903M@-1qty 20805.00 JPY -> repayment 20805.00 JPY (+0 JPY)
This profit and loss +0 JPY
Total profit and loss +0 JPY
2019.02.01 (FRI) 09:20 Add mini short Add to Tokyo market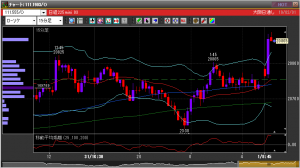 The Tokyo market where rockets start when the exchange rate swings to a weak yen. Recently this pattern is many.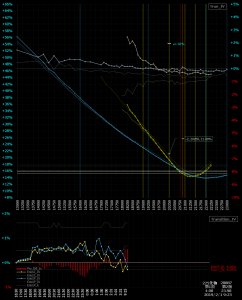 IV falling from the fine grass of the night until unchanged compared to the previous day IV. Yesterday it fell to a zala place, it was a development that was fascinated to NS.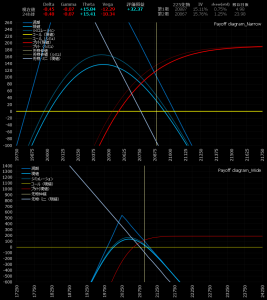 Last night, I sold the mini selling ball which I returned with the ceiling. Mini selling @ -2 qty added.
2019.02.01 (FRI) 14: 20 Tokyo Market Close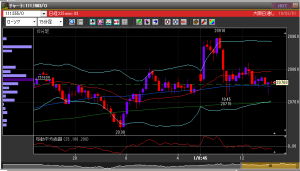 It will close soon. After FOMC passage early Thursday morning, the Nikkei futures stagnated range.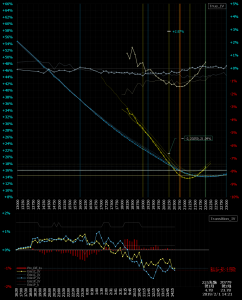 Deployment in which the near term is firmly falling toward the center of ATM. In the short system ATM's "Call Calendar Spread" "Put Calendar Spread" and "Short Straddle", in the long line ATM selling FOTM buying "call back spread" and "put back spread" WIN.
Here is a video of the smile curve of Zara's field today. In this way you can see very useful spreads at 60x speed. Please use it for simulation and review. If you do not understand this meaning, understanding the foundation in the foundation underlying option trading is a volatility transaction is insufficient, so please try to read carefully from the "carefully selected must-read list" below. Optional trading is not a gang strike of Sage that the market price is aged. If you are deepened in understanding, you will definitely approach profits. As most people are scattering in the market, I notice the possibility of option trading and I think that people who have reached so far are lucky. Trading skills of sophisticated option trading will be a lifetime treasure. There is no hand that does not learn Kore. , The founder of the guild said.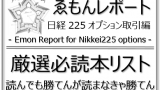 厳選必読本リスト【日経225オプション編】
日経225オプション取引を実践するにあたり、勉強になった本を厳選ピックアップしていきます。多くは10年~20年前に出版されたものですが未だに色あせない名著です。随時更新していきます。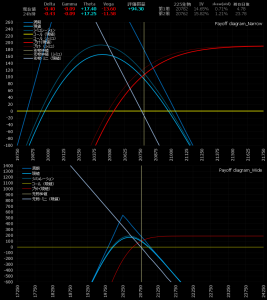 Position holds covered put. Carry over to NS.


2019.02.01 (FRI) 22: 55 NFP passing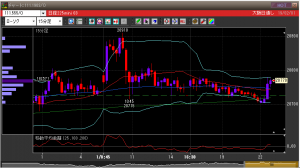 Nikkei futures that passed NFP, emerged in the plus area. Foreign exchange recovered 109 JPY.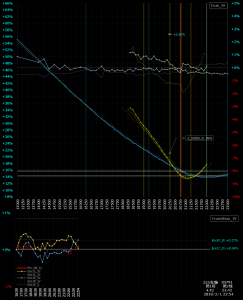 IV is not particularly changed.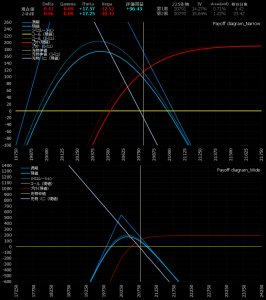 I passed the NFP and did not peel any further. "Peel off when it's done". Today's NY is likely to raise futures. It seems better for the mini selling ball to run away first. Position will start dismantling work soon.


2019.02.01 (FRI) 23:30 Mini repayment
Repayment of mini sales. Put sales ball only. Because it is "put naked sale", I firmly watch the market without releasing the eyes and the mouse.
1903M@-2qty 20860.00 JPY -> repayment 20765.00 JPY (+19,000 JPY)
1903M@-5qty 20723.00 JPY -> repayment 20765.00 JPY (-21,000 JPY)
This profit and loss -2,000 JPY
Total profit and loss -2,000 JPY


2019.02.02 (SAT) 00: 05 All repayment

It also returns putt selling balls and pays all. He was a fellow. Fuu.
1902P20250@-2qty 96.00 JPY → repayment 30.00 JPY (+132,000 JPY)
This profit and loss +132,000 JPY
Total profit and loss +130,000 JPY